Mountain Spirit Institute's Executive Director met Jorge Martel, former president of the Peruvian Mountain Guides Association, when the two were leading an expedition on Peru's highest peak, Mt. Huascaran. Since their meeting, Martel has been instrumental starting a non-profit project bringing experiential programs to his area in the form of backcountry climbs and treks. Alternative MSI itineraries in the Cordillera Blanca to include backcountry circumnavigations, and
climbing on Mt. Pisco, Huascaran.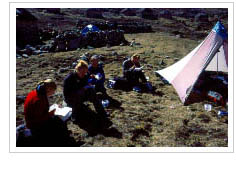 A touchstone of this program is connection to the mountains, the local people and the incredibly rich and important archeological history of the area.
One of the routes, starting in Olleros Peru, traverses the Cordillera Blanca from west to east. While on the program, participants will interact with villagers, go on a solo, learn local customs and living techniques, perform some form of service, and visit the important ruins of the area.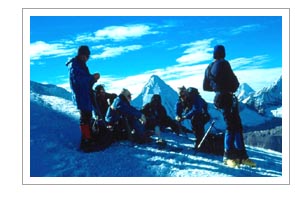 This area is known as the Cordillera Blanca, or White Mountain Range. It consists of dramatic scenery of captivating beauty, with more than 35 glaciated mountains that rise on average to 19,685 feet with more than 650 lagoons with turquoise blue waters. The Huascaran National Park is a place of incomparable scenic beauty, which contains the highest peak in Peru, Huascarán, at 22,132 feet. Due to the important fauna and flora characteristic of the area and the range's spectacular scenery, this site has been designated a World Heritage Site by UNESCO.
Climbing in the Cordillera Blanca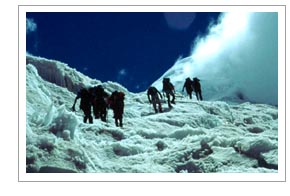 Climbing in the Cordillera Blanca ranges from moderate to advanced mountaineering. Prior climbing experience and training are necessary. Small groups, no larger than 6 with two guides provide the low impact to mountain and community.
Peaks on our radar screen are Mt. Pisco, the Ischinka Valley and environs and in some cases, Mt. Huascaran for those with proper experience and training.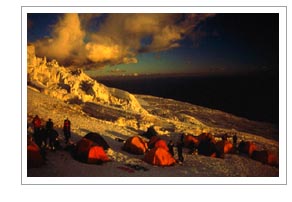 A service project designed by the particpants is incorporated to this program. The Huasacaran National Park as well as The Mountain Institute of Huaraz always have need of assistance.
Please contact us if you would like to arrange an expedition.
Trekking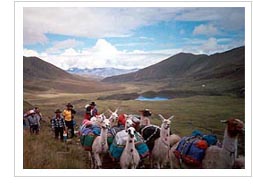 Below are some excerpts from a booklet describing creation of the nonprofit "Llama 2000" trekking program:
Perceptive to the foreigner's fascination with these uncommon and highly photogenic animals, a group of campesinos from the Valley de Huaylas started discussing the possibility of organizing a service with llamas and alpacas.

From this idea evolved the project of "Llama 2000", a community-based tourism initiative designed to reaffirm and promote the traditions that give significance and continuity to life in the Andes. Central to this goal is an effort to revive the tradition of packing with llamas, especially in Huascaran National Park (H.N.P.), where decreased use of burros and horses would help relieve some environmental pressure in this highly traveled area.
Today, Llama 2000 is chiefly managed by its original innovators, a group of campesinos from the Valley of Huaylas who comprise The Association of Auxiliary Mountain Services Olleros - Chavin (ASAM), an non-profit organization officially recognized by the Department of Industry and Tourism.
Why Llamas?
The pre-eminent pack animal, llamas were bred for packing in South America as early as 3,000 - 4,000 B.C., and played an important role in the transportation systems of ancient Peruvian society.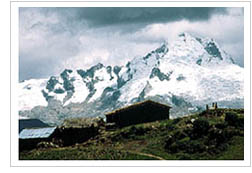 Connecting Past to Future
These communities realize the potential benefits and threats of tourism, and they are proud and eager to have a stake in deciding the destiny of their Andean heritage and ancestral land. They want to ensure that the Andean artistry and craftsmanship of their grandparents is proudly upheld and admired by their children. They want to acknowledge that Nature provides organic medicines and observe the custom of reciprocity: to borrow only what is necessary and, in due time, repay what is borrowed. They want the Andean music and dance that tempers their emotions to also touch one's soul. They want the Peruvian Andes, their mountain home, to always be synonymous with "pristine landscapes" and "natural beauty.' This land is their legacy. They want the travelers who visit their humble villages to remember the people of the Andes for their sincere hospitality and distinct talents.
Project Supporters
Support for Llama 2000 comes from The Mountain Institute in Peru, PromPeru and the European Union. Kawey Kawey, is a nonprofit that was established in 1995 with the Institute to create a center of cultural and economic development.

If you're interested in experiencing this program or want more details, please contact MSI.
PHOTO CREDIT: Llama Treking image from PromPeru.