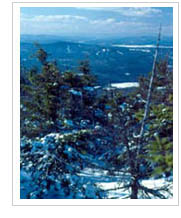 Overview
This successful program has proven a popular program with locals wishing to learn more about being confident and safe in the backcountry, whether it's in New Hampshire's mountains, or peaks farther a field. The program starts with two full Saturdays then two full weekends. We hope you'll join us!!
Stay tuned for this program being offered in Southern Utah, of course with a different program name.
Testimonials:

The pacing was right for the group, where there were reasonable challenges and a good espirit d'corps, right timing at teachable moments with clarifying and patient responses. Randy exudes confidence in his ability to provide security, teach and have fun.
Rev. Richard Dutton
Kearsarge Wilderness Experience participant

I had no idea what to expect, but I was thrilled with the end results. It sure met my expectations!
Richard Kipperman, NH
Kearsarge Wilderness Experience participant
This six-session program takes place in the local forests, parks and mountains of the Dartmouth Lake Sunapee Region of New Hampshire. It includes one weekend session as a cumulative overnight to tie in all the skills you'll have learned.
Randy Richards and Chris Mulcahy team up to provide an fun-filled educational experience for anyone interested in learning the necessary skills to travel and stay in the wilds, whether it's New Hampshire, Utah or Peru.
Dates for '09/'10 Kearsarge Wilderness Experience Programs: To Be Announced
New Hampshire, Please call if you would like to participate in this winter program. Limited to 10 people.
Program compoments include:
Map and Compass
Tracking
Weather
Bow Drill/Fire making
Snow Camping, when applicable
Travel on Snow
Route Finding
'Leave No Trace' Practices
Tracking
Emergency Shelters
First Aid Kit Contents and Use
Basic Wilderness First Aid
Self Care, Leadership, etc.
Fire Building
Solo Experience
Journaling
Trip and route Planning
Equipment use and care
Power of Place
Readings
This program is limited to a small group of people.
Cost: $445 per person for 6 sessions/which includes one overnight session, for more details on what's included, please contact us.
The Kearsarge Wilderness program is instructed by:
Randy Richards: an experienced alpine guide (the Alps, South America, Wasatch and Pacific Crest Ranges) and individual member of American Mountain Guides Association, as well as a former guide for Alpine Ascents International. Degree in Parks and Recreation Mgmt. University of Utah

Register
To register simply download, print and mail in the form below, or to obtain more information including a topic and equipment list, email Randy Richards Mountain Spirit Institute's Executive Director and co-instructor for this program.

Download application Form
Download release Form
Forms require free Acrobat Reader: