Learn from local professional musicians the unique rhythms and styles of Peruvian Folk music, and then perform with them in public. Additional variations of this program will be developed as well, stay tuned.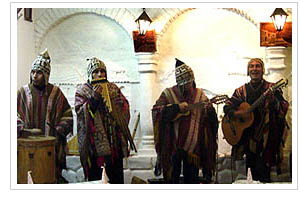 Guillermo Seminario, leader of the professional folklore band Chimu's in Cusco, Peru, along with other band members, will host and teach their gringo and gringa fellow musicians of the north, folk songs and techniques on guitar, flute, zampoña and charango from the Peruvian traditional culture. Guillermo and others will also teach the art of making a Zampoñas and Cane/Peruvian flutes. He and other band members make professional grade instruments.
This program is open to amateur and professional musicians alike, as well as instructors/teachers who wish to broaden their musical horizons. The only requirement is your love of music, openess to learn about new cultures and music, and maybe you even have some performing under your belt at a local open mic or, are a seasoned professional.

During your program, you'll learn at your own comfort level and interest. If Zampona is your thing, you'll have plenty of time to delve into it. There will be good mix of learning, seeing the sites, down time and of course playing music. We've arranged a few small venues for you to either "jam" or perform a little more formally on stage. As a finale, you and other participants, plus members of the band will perform together in Cusco at the end of your stay.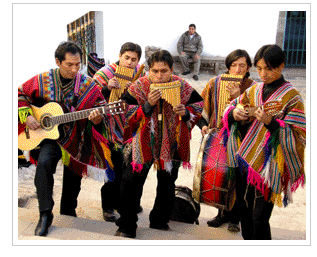 We call this program an exchange for two reasons - The Peruvian band Chimu's mayl be interested in learning and performng some of your songs. Secondly, some of the band members have performed and taught in the USA, in schools, universities and venues under special invitiation of MSI, and plan on returning again soon.
The band has been together for over 6 years and plays on a daily basis in the restaurants and private functions in downtown Cusco. They have three CD's (Q'ori Pank'arita & Magical Melodies & Fusion Etnica) and a local following to their credit. They can captivate a room with their talent and passionate performances.
This program was conceptualized by R. Richards, MSI's Executive Director, also a musician. He has spent much time with Guillermo in Cusco, co-creating and going over details of the program. Both are excited to offer this opportunity of mutual learning and fun! States Randy," I saw the energy and open hearted style of these musicians, and how they tend to light up a room. It seemed natural to get them involved in Mountain Spirit, and they're excited to teach. Each one is technically skillful and adept at all the folk instruments used in Chimu's.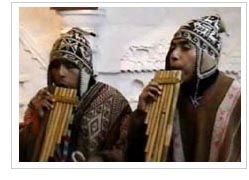 Part of the program of course includes explorations of Cusco, its famous Inca ruins, Machu Pichu and other important environs in the Sacred Valley near Olltaytambo and Urubamba.

A Demo DVD of their performing in Cusco is available upon request.
Chimu's two CD's, produced and already for sale in Peru, by Guillermo Seminario will be available in the coming months on this website.
Instructors for Cusco Music Exchange are: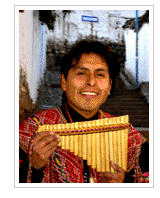 Guillermo Seminario is the musical director "Chimu's", and coordinates the Cusco Music Exchange Program for MSI. He is a talented performer, having played various instruments since an early age. His interest in music led him to particpate in five different cultural/educational organizations for a number of years. Guilllermo also makes professional grade instruments such as Zamponas, pan pipes, flutes and charangos. He, and others, will be in the USA performing and teaching in the Fall of 2007. Guillermo states, "Just as we depend upon the sun, we can't exist without the strength, warmth and inspiration of music." Guillermo speaks Spanish and English.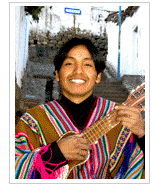 Agusto Taype, who also goes by Washington, hails from Julliaca, near the shores of Lake Titicaca. Before Chimu's he has performed with the folklore group Wayra Llacta, meaning "place of the wind". When Agusto traveled to Cusco for its famed Inti Raymi festival, there he met Guillermo and they became fast friends and musical partners forming the group Chimu's. Agusto also makes zamponas, flutes, weaves tapestries a bit, and even "a little bit of pottery."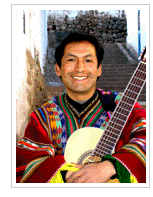 Mario Montalvo calls Cusco his home. He has studied voice and guitar, charango, flute and zampona. He was previously part of the group KMT Unima and had been a choral director in various parrishes in Cusco. He's been teaching guitar to students of various ages in Cusco for a number of years. He's been in Chimu's for two years and can belt it out like few others. His guitar work is solid and his attitude is wonderful. Mario and his wife are now parents of a new baby girl.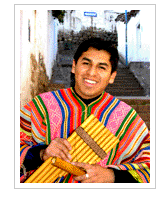 Miguel Quiroga is originally from Puerto Maldonado, to Cusco's east. In addition to his musical talents, he is an experienced visual artist in various mediums. He plays the flute, zampona, guitar and drum, and has been in various groups before Chimu's. His passion for music is contagious, and his performances show it. He is a talented performer who contributes much energy to the band.
The Intinerary is below. Please review the information below and contact us should you have questions.
A Few Details:
This program is limited to 10 participants.
Our Cusco home base will be the Casa de la Gringa in the relaxed and bohemian section of Cusco called San Blas, four blocks from the main plaza. It is owned by Leslie of South Africa. She also owns a pub where we may play.
Leslie has experience bringing musicians from Peru to South Africa and shares our passion for international music.
We will be renting the whole lodge and using that as a base for practicing and workshops.
Explorations of Cusco, its famous Inca ruins of Sacsuay Huaman (sp)
Machu Picchu by train from Olltaytambo in the Sacred Valley
The Sacred Valley
Guest speakers and instructors
Visiting the local music scene: there is a plethoria of various small venues and performances on any given night. You'll have time to do some exploring.
More details to be added soon.
Return to Top of Page


Itinerary
Day

Date

Activity

0

Night Flight to Lima From USA

1

AM flight to Cusco, rest a good portion of the day, acclimatize,Intro talk
Welcome Dinner/Music by Guerllmo and Chimu's
Hotel in Cusco

2

Peru Music Hx Intro/Sacsayhuaman
Design & Dist concert posters!
Workshop on instrument types
Hotel in Cusco

3

Breakup into groups learn instrm
See Ruins near Cusco
Posters/Dinner, free time
Hotel in Cusco

4

Smll groups, learn instrument
Visit Music stores, free time
Workshop on making Instruments
Hotel in Cusco

5

Smll groups, learn instrument
Workshop on making Instruments
Dinner with Visiting Musicians perform
Hotel in Cusco

6

Day trip to Sacred Valley, Moray Chincero
See Music in Small Villages
Dinner in Sacred Valley
Hotel in Cusco

7

Smll groups, learn instrument
Workshops on Making Instruments
Dinner/Preparation for Machu Picchu Trip
Hotel in Cusco

8

Train for Machu Picchu
Machu Picchu, Train for Olltaytambo
Dinner/Despacio
Hotel in Cusco

9

Olltaytambo Ruins and Play Music
Urumbamba/Chinchero Market
Optional Hike from Salt Pans
Hotel in Urubamba

10

Smll groups, learn instrument
Workshop on making Instruments
Practice for Concert
Hotel in Cusco

11

Smll groups, learn instrument
Guest Lecture/Free afternoon
Practice for Concert, Play in local establishment
Hotel in Cusco

12

Guest Lecture
Practice for Concert
Play in local establishment
Hotel in Cusco

13

Concert Prep, Free time
Concert in Cusco, Park
Debrief, Thank you Dinner
Hotel in Cusco

14

Flight in AM to Lima
Nat'l Museum/Music Stores etc.
Dinner in Miraflores/Lima
Hotel Lima/Miraflores

15

Return Flight to USA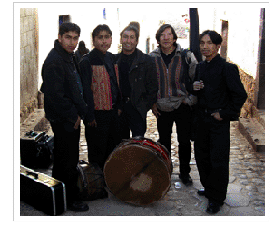 If you're interested in particpating in this program, please contact us. We will plan for this trip once we have a critical mass of interested particpants. The program will e planned 6 months in advance.
Please contact us!
Peruvian Music comes to the USA

Chimu's will be coming to the US in the Fall of 2008 to perform, give workshops, and teach at schools, through MSI. Check out their
USA Program page for more information.
Their CD's are available on our
Fair Trade Products page.