DISCOVER NEW ZEALAND
Off-the-beaten-path New Zealand, with the purpose of reconnection to the earth, each other and a deeper connection to yourself.
Come visit us in the Southern Lakes District of New Zealand. Experience the Southern Alps, Lake Waikatipu, Wanaka Lake, the Mt Cook area, Wanaka, Mt. Aspiring National Park, Mt. Brewster, Glenorchy, Skipper's Canyon, and other parts of the South Island.
New Zealand! :
We always hear, without fail.."I've always wanted to go to New Zealand". Consider it now, and get there while you still can!
An easy comfortable flight from the US, 12-13 hrs from LAX
Airport Pickup
Talk wth us about scheduling your own trip with our help, connections and knowledge of the Southern Alps.
Craft a combination of our guiding you, heading off on your own and getting some pointers from us.
We're all about helping you connect with the Southern Alps, its people and reconnecting with yourself, whether you're a family, an individual, or group of friends.
Let the power of place transform you. New Zealand has a way of doing that.
There exists a fundamental difference between a tourist and a traveler. We show you how a place can change you to the depth of your being. But the mountains don't speak for themselves all the time. Our job is to set the stage for an awakening. A you that you didn't know exists. New Zealand's South Island is a dramtic and varied land, with breathtaking views, (like the banner shot above we took near Glenorchy) that, along with our staff will help bring out the best of you.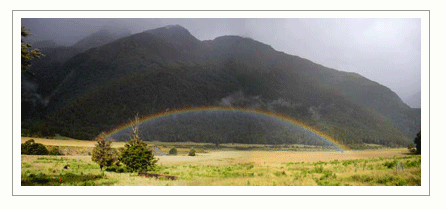 Image: On the way to the Mt. Aspiring Hut: The Matukituki Valley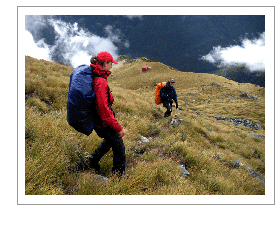 Programs for Individuals, Families or Small Groups
Sustainable Living
New Zealand is renowned for its sustainable agriculture, untainted food supply and sensible living standards. Learn more by helping out on an organic farm. We'll set you up
Learn about societal decisions made in NZ that has kept this society vibrant and healthy
Help with a service project from a wide range of opportunities
Service
Help with, or create a service project from a wide range of opportunities: from trail work, forestry, to volunteering locally.
We'll take a few hours or focus a few days on service, depending upon your level of commitment and interest.
Contact us at 1-603-763-2668 which rings in New Zealand at no extra charge to U.S. callers. or 64-3-669-2338
Basecamp: We're located in Kingston, NZ. more info here
Flights arrive in Auckland then transfer to Queenstown
We work with local guides when appropriate. We work in compliance with local guiding and land use protocols set by the NZ government and the Dept. of Conservation. We are currently working on setting up MSI-NZ, so stay tuned.
Scope of Programs offered:
Hiking/backcountry travel
Rock/ice climbing
Glacier travel/peak ascents
Backcountry Skiing
Solo's
Inner work intensives
Group and individual healing in the mountains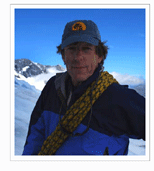 R. Richards
Mountain Spirit Institute's Founder & Executive Director, R. Richards started guiding friends and fellow North Americans in the Austrian Arlberg backcountry in the early 1980's when he lived in Lech and Zurs, Austria and South Tirol, Italy. He later, guided the Classic Haute Route from Chamonix to Saas Fee.

In New Zealand, he has been a back-country volunteer hut ranger at the French Ridge Hut on Mt. Aspiring and has traveled, trekked and climbed the South Island with his wife, (to whom he proposed on a remote trail in the backcountry).

He has been an individual member of American Mountain Guides Association since 1984. He is certified PSIA Level-III ski instructor, certified PSIA Level II Backcountry Ski Guide, and PSIA Level II Telemark Instructor, Level II Avalanche Training.

Randy has served as a guide for Alan Bard in the High Sierra Nevadas, and as a Senior Guide in mountaineering for Alpine Ascents International in South America on high altitude expeditions such as Aconcagua in Argentina, and Peru's Huascaran (where he was co-leader of the this expedition), the volcanoes of Ecuador, as well as on the North Cascades' volcanoes. His years of teaching mountaineering and skiing has earned him a reputation as a safe and compassionate instructor from many of his students and clients. He has had wilderness emergency medicine training and is a current E.M.T. which he has held continuously since 1985.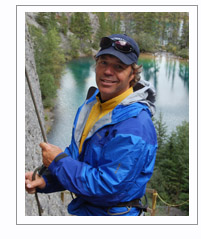 Ken Wyle: Cochrane Alberta , Canada
Ken has a long outdoor guiding and instructing history. An internationally certified mountain guide with the International Federation of Mountain Guide Associations, he is widely recognized as one of Canada's leading outdoor professionals who has guided around the world and taught at a number of Canadian universities. He has been a program manager and staff trainer for Outward Bound Canada ( where he led the development for the Veterans Program), Pacific Crest Outward Bound, and a guide for various guide services. Ken's passion for the outdoors and helping people see themselves in their love of the mountains is shown in courses. An excellent leader with heart, there is no mincing words about why he takes people out into the mountains, to help them connect with the earth, each other and a deeper connection to themselves. Ken speaks English, and "enough Spanish to embarass myself". as he puts it.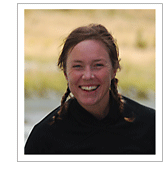 Amanda Richards
Amanda is a resident of New Zealand and has lived and worked in the country for a number of years. Her knowledge of the New Zealand backcountry, the people and culture gives her a solid footing to help with your visit to New Zealand. She has been a backcountry ranger for New Zealand's Department of Conservation in Mount Aspiring National Park for a number of years at the Mount Aspiring and French Ridge Huts.

She has traveled extensively in Asia, Africa and Australasia and has a great love of mountains having trekked and climbed in Africa, New Zealand, Australia, Nepal, and India, including Everest, Annapurna and Kanchenchunga basecamps and the summit of Kilimanjaro.

A certified Homeopathic practitioner, Amanda also has a degree in genetics, was a national marketing manager in IT for many years, and recently She was introduced to Vipassana meditation while in India. Originally from South Africa, Amanda is an Australian citizen, a U.S and New Zealand resident.
Local permit holding/licensed guides and partner agencies will be working with MSI where required.
MSI is a fully insured non-profit educational organization

If you're interested in coming to New Zealand, and using us as a base or would like us to show you some hidden, off-the-beaten-path places of New Zealand, with the purpose of reconnection to the earth, each other and a deeper connection to yourself, please call us here in New Zealand on our U.S. number at 603-763-2668.
PHOTO CREDIT: R. Richards