ROCK CLIMBING
Groups / Families / Individuals
For beginners and intermediates, a challenge which brings a sense of achievement. You'll experience the strength within you to realize what you're really capable of doing.
A day together, of team or family building, a day about building trust and developing ties, and adventurous rock climbing, with experienced facilitators and highly qualified instructors.
Rock Climbing as Metaphor Summer 2012 Dartmouth/Lake Sunapee Region
R. Richards is available for Parent/Child pairs and famililies up to four, as well as individuals to introduce them to rock climbing in a non-threating, fun manner. Push your limits in a natural setting not far from the road on solid NH granite this summer
For more information, give us a call or email.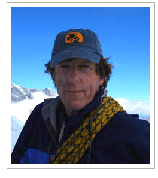 R. Richards has been an Alpine Skills Course staff trainer, an Incoming New Staff Trainer, and Senior Instructor for Pacific Crest Outward Bound, and has been a rock camp instructor for Outward Bound's Semester program in Joshua Tree, CA, and senior guide for Alpine Ascents International where he was an instructor for their North Cascades Alpine School, and co-expedition leader on Mt. Huascaran, Peru's highest peak, as well as a guide on Argentina's Mt. Aconcagua, as well as the volcanoes of Ecuador and treks in Torres Del Paine National Park. Randy lived and worked in the Alps where he climbed and started to guide friends in the early eighties. He has been an individual member of the American Mountain Guides Association since 1984.
Basic Rock Day Features
A fun filled and challenging day
A great way to build teamwork and trust
Test your limits, and see how you problem solve using the rock as a metaphor
Basic Rock Elements
Movement on rock and climbing technique
Basic Equipment and gear
Climbing commands
Basic safety and tie-in procedures
Belaying, holding a fall
Lowering off

Introduction to Tope Roping and Site Management
Site selection and safety
Route evaluation
Basics of Top-rope anchoring systems
Bolts and natural protection
Basics of passive and active traditional protection

What to Expect:
Participants will meet up at a designated spot , then a short drive to the rock site. You'll learn in a non-threatening safe and fun environment. Randy's style of instruction is all-inclusive and accepting. Scaredy-cats welcome, as are those willing to step outside their comfort zone.
Climbing dates are available. Individuals and groups are invited to contact R. Richards to arrange a climbing day or weekend although mid-week is preferred. Enrollment cost per person: $145.00 (includes lunch & all gear)), group discounts available.

ENROLLMENT FORMS:
Please contact us for instructions on how to download and print your forms!
All MSI Programs are fully insured.

Images Credit: Background image and 3 center images: ©2010 Brooks Canaday.
Please see http://canadayphoto.com/ for more images by the photographer.