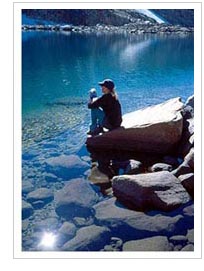 Our society has few formal rites of passage. The Solo is for those participants of any age interested in a powerful experience that comes from being alone with nature and few distractions.

Next Solo Programs:
Dartmouth/Lake Sunapee Region
Sat. July 28th, 2012
(1) Day Solo
&
Dartmouth/Lake Sunapee Region
Sat/Sun Aug 25-26, 2012
Overnight Solo Starting Sat. Morning..see below

Programs are one to three days in length. We do not copy Native American traditions or ceremonies, rather, provide a group framework for participants to create their own experience with the leadership, guidance and safety of an experienced facilitator.
Participants have a say in how their experience unfolds. Facilitated group activities and council, plus being alone in nature for three days with minimal distractions, provides a powerful exploration into one's self and can bring forth value forming experiences.
These programs include preparation and framing for the solo, optional sharing of personal goals and concerns, safety briefing, site orientation, safety checks, de-briefing and closing ceremony.
Solo Program Locations
Dartmouth Lake Sunapee Region, New Hampshire
White Mountain National Forest, NH
Southern Utah
Cusco & Huraz, Peru
Lake Wakatipu Area, Queentown, New Zealand


Itineraries
Dartmouth/Lake Sunapee Region 1-Day Solo 2012:
We meet at 8am and hike to the solo "basecamp" area, where we'll have a brief discussion and tone setting ceremony, and you'll be shown your solo site for the day. The facilitator will be on site nearby your location until your solo is completed in the late afternoon, when we'll return to the trailhead. Expect to be in a beautiful place during your time to reflect and relax.
Dartmouth/Lake Sunapee Region Overnight Solo 2012
Saturday: Meet at 8am with a warm welcome and orientation breakfast. We hike to the solo area, and you're instructed on the basics of safe practices for spending the night out. After a brief sharing and simple ceremony, you are shown to your solo site.
Sunday: Get picked up off Solo mid-day, return to basecamp, debrief and share experiences, Lunch, pack up and walk to trailhead.

Standard Overnight Solo:
Friday: Meet at 5PM, drive to trailhead, tone setting, instruction and dinner.
Saturday: Early Morning Instruction then be shown your solo site, start Solo
Sunday: Get picked up off Solo, return to basecamp, debrief and share experiences, Lunch, pack up and walk to cars.

What to Expect:
Particpants will meet facilitator Randall Richards , then a short drive to the trailhead. We'll be hiking a short easy path to the basecamp area, where tone setting, instruction and an evening meal will be served. The basic instructions on how prepare for the solo will be covered. Saturday morning, Randy will cover tarp set-up, safety procedures and take each of you out to your pre-selected solo site where you'll be till Sunday afternoon. Randy will be your safety net, with a whistle, as well as regular non-verbal check-in system to see how you're doing during your solo.
Expect a rare opportunity to simply be. The idea is to go minimal, no watches, books or tents, but a sleeping bag, tarp and journal.

EQUIPMENT LIST (overnight)
Sleeping Bag
Sleeping Pad
Sun Hat
Small Toiletry Kit with Toothbrush etc..
Sun Screen
Rain Jacket and Pants
Bug Repellent
Poly Pro pullover or wool Sweater
Long pants, no jeans though.
Extra socks, no cotton
Headlamp or flashlight, extra batteries
Plastic Bowl and Spoon
Journal and pen
Sketchpad (optional)
Camera (Optional)
Good walking shoes, low hikers or tennis shoes OK
Bug net for head.
Small backpack for these items. Contact us if you need a backpack.
If you're interested in signing up for the solo, please contact Randy Richards to hold your spot.

ENROLLMENT FORMS:
Application for Enrollment : Download/Print
Release Form: Download/Print