From Wilderness to Workshops
Programs at a Glance - Calendar
You're on Page 2 of Programs - Back to Programs Page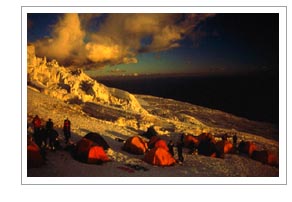 Outdoor Experiential Learning:
Wilderness Skills and Challenge Programs
Elements range from the basics of putting up a tent and safe cooking practices to hiking, navigation and we offer mountaineering, rock and ice climbing. Feeling the freedom of safely moving in the wilderness with solid skills encourages people to get out more, and consequently, have more of an affinity for nature.

Programs are inseparably linked to community and teambuilding. Reaching the summit of the peak as a healthy well functioning group is vital to the "success" of any expedition. Learning experientially about group behavior in the wilderness leaves a lasting impression that is directly transferable to home and workplace.
International Programs, Cultural Immersion:
Climbing, hiking, village and family stays in Peru and Bolivia
An emphasis is on the holistic nature of being in mountain environments and cultures learning from locals through family home stays, understanding local issues through bearing witness and service, learning about tribal/elder philosophy, and ways of sustainable living such as farming, weaving, bread making and food preparation.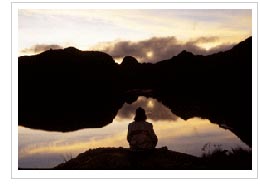 Our Ultimate Concerns:
Health and Wellness Programs
Such programs as Yoga, Aikido & Tai Chi, Meditation, "Solo's," the Power of Presence, and Inca shamanic work, will be offered, conducted in a wilderness or natural setting. Also programs about keeping a healthy "sense of presence & humor perspective" during life change and crisis will be offered using such texts as The Art of Happiness by Howard Cutler/H.H. The Dalai Lama and The Power of Now by Eckhart Tolle.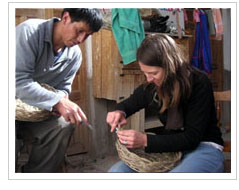 Sustainable Lifestyles
A cornerstone of Mountain Spirit Institute's mission is providing exposure to lifestyles and living techniques that are more in balance with self, family and the earth. By offering the SunFest in Sunapee, NH and promoting sustainable energy policies and lifestyles that are critically needed, MSI is contributing to solutions that do less to harm the environment and take into consideration human's impact and role on the earth.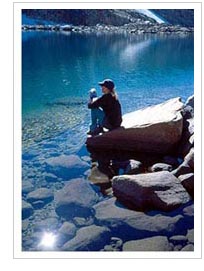 Back to Programs Page

Solo Experiences
Our society has few formal rites of passage. Solo's are for those participants of of any age interested in a powerful experience of a lifetime. Programs are one to three days in length. We do not copy Native American traditions or ceremonies, rather, provide a group framework for participants to create their own experience with the leadership, guidance and safety of an experienced facilitator.

Participants have a say in how their experience unfolds. Facilitated group activities and council, plus being alone in nature for three days with minimal distractions, provides a powerful exploration into one's self and brings forth value forming experiences. For more information, click here.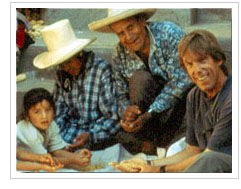 Indigenous Wisdom
One serious shortcoming of the "Western construct" is our inability to see and learn from indigenous cultures who have lived for thousands of years in balance with nature. Programs, seminars and lectures are offered on what tribal people know and their warning about living out of balance with nature. Bearing witness to current indigenous issues is a vital part of this learning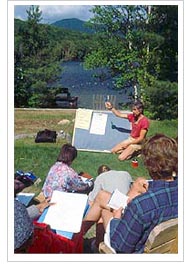 Healthy Communication, Leadership and Teamwork
All of our programs go further in asking more of our participants than holistic learning centers often do. At retreat centers, you're offered a smogesbord of workshops and experience. We ask particpants to truely explore walking their talk while on any of our programs, such as working on their inner landscape with their fellow particpants when issues arrise, and...helping with food preperation, doing service projects or extending a smile. This is a core value of ours. We also offer..

Seminars, lectures and workshops on healthy communication styles, models for giving and receiving feedback, listening skills and leadership are available for organizations, businesses, government agencies and other groups. Mountain Spirit Institute uses proprietary instruments and models that can greatly increase group effectiveness and collaboration.

Back to Programs Page

GIVING BACK - MSI Service Projects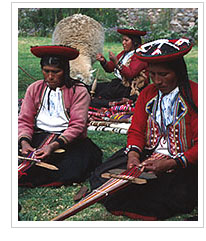 Website & Blog
MSI's Web site not only provides information about MSI and it's programs, but serves as a public resource of information and links for non-mainstream news coverage, cutting edge books plus, links, addresses and resources which support the MSI's mission statement.
Grant Funding and Scholarships
A part of MSI's role is to provide funding through grants for publishing works of art, music and written manuscripts. Additionally, scholarship funds for both Mountain Spirit Institute are made available for families and participants demonstrating a financial need. Mountain Spirit Institute facilitates two student scholarships each year from Sunapee High School, in Sunapee, NH in cooperation with Outward Bound. The recipients participate in a 14-day Outward Bound program of their choice.
DISCLAIMER
Information provided through Mountain Spirit Institute's web site, newsletters, and e-mails is subject to change without notice. Mountain Spirit Institute does not guarantee or warranty the accuracy of the information contained herein. It is the sole responsibility of the user to ensure the accuracy and clarity of any posted material and to determine the suitability of any service for their particular needs, health, or requirements. Participants undertake all MSI programs and activities at their own risk.