Randy is the founder and executive director of MSI, and has guided and taught individuals, clients, and participants throughout South America, the European Alps and the Western US since 1981. He has been a senior guide for Alpine Ascents International on Aconcagua, Argentina, four of Ecuador's major volcanoes, and expedition co-leader on Mt. Huascaran, Peru, as well as a respected instructor in the North Cascades, Sierra Nevada and Alaska. He was a senior staff-trainer for Pacific Crest Outward Bound along the west coast ranges, instructing semester, rock, mountaineering, sea-kayaking and seamanship programs. He is the recipient of the first OBP Leadership Award 2004, for his work with corporate and civic groups on the eastern seaboard with Outward Bound Professional. Richards attended the Peruvian Government sponsored conference on sustainable and alternative tourism called ALTUR and was the first North American invited to this conference. There he met some enthusiastic locals in the Peruvian outdoor field, adding to the contacts and friends that Randy has known from guiding in South America. He has been meditating regularly since a young age, and has been giving intuitive readings to inviduals and groups since the mid '80's. He accepted an invitation by a Native American elder, to be a member of a Native American Church "in the capacity of shaman, healer and minister." He is an individual member of American Mountain Guides Association since 1984; and holds current Level III Alpine Ski Instructor, Level II Backcountry Ski Guide, Level II Nordic Downhill Instructor with Professional Ski Instructors Association- Intermountain division, Level II American Avalanche Institute, He holds a USCG 100-ton "6-pac" license from Pacific Maritime Academy in Honolulu and is a graduate of University of Utah in Recreation Management. He speaks English, French, Spanish, German and enough Quechua to get him into serious trouble.
Robert Stremba: Ed.D. , Durango Colorado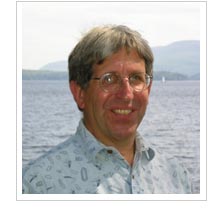 Bob Stremba, is Co-coordinator and facilitator of the HAWK/Heroic Journey and Solo programs and is reconning programs in New Zealand with MSI. He is the Coordinator and Associate Professor of Adventure Education at Fort Lewis College in Durango Colorado. He also instructs courses for Outward Bound focusing on leadership. His personal and professional adventure pursuits include mountaineering backpacking and sea kayaking. Bob's international travels include Peru, Bolivia, Mexico, and much of Europe. He has previously worked as director of Counseling, Health and Wellness at the University of Puget Sound, and has been a visiting Professor of Adventure Education at New Mexico Highlands University. He serves as an accreditation reviewer and executive board member for the Association for Experiential Education and is the Vice President and a guide/facilitator for Mountain Spirit Institute. Bob second language is Spanish.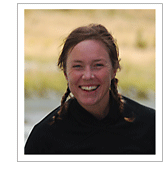 Amanda Richards
Amanda has traveled extensively in Asia, Africa and Australasia and has a great love of mountains having trekked and climbed in Africa, New Zealand, Australia, Nepal, and India, including Everest, Annapurna and Kanchenchunga basecamps and the summit of Kilimanjaro.

A certified Homeopathic practitioner, Amanda also has a degree in genetics, was a national marketing manager in IT for many years, and most recently was a backcountry hut ranger on the South Island for New Zealand's Department of Conservation. She was introduced to Vipassana meditation while in India. Orginally from South Africa, Amanda speaks English, conversational Danish, and Spanish.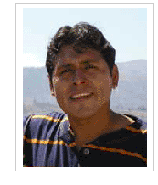 Guillermo Seminario: Cusco, Peru
Guillermo is the musical director for the band Chimu's in Cusco, Peru. He coordinates the Cusco Music Exchange for MSI and assists Randy in leading programs in Peru as the local contact and facilitator. Our participants rave about him.

He is a talented performer, having played various instruments since an early age. His interest in music led him to particpate five different cultural/educational organizations for a number of years. Guilllermo also makes professional instruments such as Zamponas, pan pipes, flutes and charangos. He, and his band Chimu Inka had a their first very successful tour in the USA performing and teaching in the Fall of 2008. Guillermo states, "Just as we depend upon the sun, we can't exist without the strength, warmth and inspiration of music." Guillermo speaks Spanish, Quechua and English.
The following individuals have their own organizations, and conduct programs under a co-venture, contractual relationship, or sponsorship by Mountain Spirit Institute.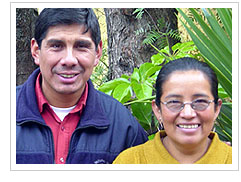 Jorge & Teresa Martel: Huaraz, Peru

Jorge is a veteran Peruvian mountain guide in the Andes' Cordillera Blanca range in Peru. He is a past president of the Peruvian Mountain Guides Association, and has studied tourism and hospitality in Austria. His experience and knowledge of the high Peruvian Andes is substantial. He is a founding executive member of the cultural non-profit group Llama 2000, a program dedicated to bringing sustainable environmentally and culturally sensitive backcountry programs to his native Ancash region of Peru. Jorge speaks Spanish, English, German, French and Quechua.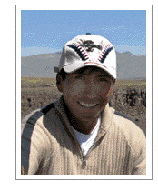 Richard Cari: Amantani Island, Lake Titicaca, Peru
Richard and his parents Sigundino and Marcelina Cari, own the Kantuta Lodge on the Island of Amantani on Lake Titicaca, Peru. Richard is a graduate of the Puno University and studied tourism and hospitality. Since graduating from the University, Richard and his family have been improving the family lodge which lies just meters from the shores of Titicaca. Sigundino is a former town official and assistant to the head shaman on the island. Richard Speaks Spanish, Quechua, English and Aymara.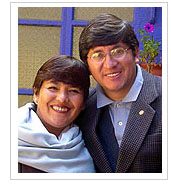 Julio and Silvia Lopez Del Aquila: Cusco, Peru

Julio and Silvia are owners of a Personal Travel Service in Cusco. Julio is a certified backcountry outfitter licensed with the Peruvian Government. Silvia is president of the Cusco Travel and Tourism Association, which entails bi-monthly meetings in Lima with the Peruvian government and occasionally with President Toledo. Both Julio and Silvia help organize and facilitate the custom cultural immersion programs in the Cusco/Machu Picchu area of Peru. They both speak fluent Spanish, Quechua and English and have a wonderful family in Peru.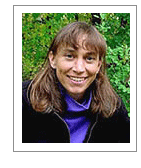 Jen White
Jennifer White brings a purpose-driven, holistic approach to sustainability education at Mountain Spirit Institute. She has been an educator for over fifteen years in a wide variety of academic and community settings, and has a multidisciplinary background in physics, psychology, systems science, permaculture design, and sustainability. She served as the Executive Director of a national nonprofit called the Simplicity Forum, and was the Co-Founder and Director of Education for the Green Heart Institute which was created to help people "understand the global impact of their choices, connect with their values and live sustainably from the heart. Jen has a long history of dedicated volunteerism with community based organizations including being a founding member of the Rocky Mountain Earth Institute and Transition Town Lyons, both in Colorado. She is currently the Sustainability Coordinator and an Assistant Professor of Environmental Studies at Colby-Sawyer College, New London, NH. and founder of Root Systems Institute.
Jen is a facilitator at this year's MSI Creating a Sustainable Lifestyle Program Jen and her husband Jimmy Sferes have created an environmental and educational music performance, called Eco-Tones. They teach about sustainability through music and humor. They also perform original folk music under the name Sferes and White. Jen is the Sustainability Coordinator and an Assistant Professor of Environmental Studies at Colby Sawyer College, New London, NH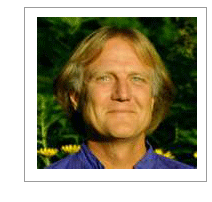 Miles Sherts:
Miles founded Sky Meadow Retreat in 1999 as a holistic learning center, organic homestead, and conscious community. He lives in Vermont with his wife and three daughters, where he leads workshops and retreats in Conscious Communication, Insight Meditation, and other forms of personal transformation. He also works with couples, offering group and private retreats that focus on using these skills in a primary intimate relationship. And, he offers private trainings in Supportive Listening, Assertion, Collaborative Negotiation, Meeting Facilitation, and Shared Leadership.
G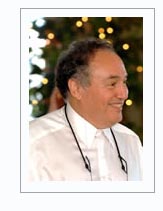 ary Acevedo, MSW: Salt Lake City, Utah

Founder of DreamMakers Academy, Gary has lead personal empowerment training, retreats, and seminars for a diverse spectrum of corporate organizations, social service agencies, and private individuals since 1971. These include the World Futures Conference on Education, the 10 state Regional Conference for the Division of Rehabilitation, and he was chosen by the Utah Governors Commission to design the state wide Victims Rights Conference, training Covey's "7 Habits of Highly Effective People" course, training Career Track's "Self-Discipline and Emotional Control." In 1981, Gary founded the unique personal empowerment retreat known as "The Awakening," He founded Dream Makers Academy; one of the most advanced training programs in the country for coaches, healers, facilitators of experiential training, and is recognized as a trainer of trainers. Consulting projects include Franklin Covey, AT&T, Mass Mutual, Einstein Bagels, consulting with members of the 1992 & 2000 Olympics, and designing training for VitalSmarts (Authors of bestsellers "The Balancing Act" and "Crucial Conversations," and invited to advise Gorbachev before the fall).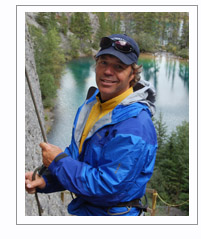 Ken Wyle: Cochrane Alberta , Canada
Ken has a long outdoor guiding and instructing history. An internationally certified mountain guide with the International Federation of Mountain Guide Associations, he is widely recognized as one of Canada's leading outdoor professionals who has guided around the world and taught at a number of Canadian universities. He has been a program manager and staff trainer for Outward Bound Canada ( where he led the development for the Veterans Program), Pacific Crest Outward Bound, and a guide for various guide services. Ken's passion for the outdoors and helping people see themselves in their love of the mountains is shown in courses. An excellent leader with heart, there is no mincing words about why he takes people out into the mountains, to help them connect with the earth, each other and a deeper connection to themselves. Ken speaks English, and "enough Spanish to embarass myself". as he puts it. Ken owns and runs Mountains For Growth.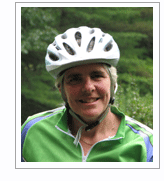 Cindy Heath: Plainfield, NH
Cindy is the Program Coordinator for Drumming Jamaica, and Co-Coordinator for Creating a Sustainable Lifestyle. She provides the continuity of MSI's mission statement by providing tone-setting and framing for programs. She is also expecting to be a facilitator with the HAWK/Heroic Journey program.

Cindy is well respected nationally for her leadership and participation in recreation issues and practices. She is an avid outdoor leader and practitioner of paddling, biking, skiing and a miriade of other outdoor pursuits.

Cindy currently serves as the Executive Director of GP RED, a non-profit organization providing education and research to recreation, health and land management professionals, and is a part-time Project Consultant with GreenPlay, LLC, a national consulting firm specializing in recreation and parks management and strategic planning. She is a partner in Wild Azalea Designs, a garden design firm, and is a Project Consultant for the Upper Valley Healthy Eating Active Living project.